Opel GT "Corvette" and why it looks like a 'Vette
Registered
Join Date: May 2005
Posts: 53,770
Thanks: 0
Thanked 0 Times in 0 Posts
Opel GT "Corvette" and why it looks like a 'Vette
---
By Zack Doell

GT's designer, Clare MacKichan, previously penned cars for GM in the '50s..........

Normally, vintage sports cars of a certain German origin will cost you an arm and a leg…as well as your friend's arms and legs. Not so in the case of this lovely 1971 Opel GT, which is currently up for sale for a relatively affordable price.
The eldest of you might remember the tiny Opel as that
other
car sold in Buick dealerships back in the '60s and '70s. But it was a bit more than that.
The Opel GT, which made its production debut in 1968, melded the worlds of commuter cars and sportscars, literally. Opel assembled the sports car's sweeping body on top of a humble Opel Kadett chassis. Economy car or not, it remains quite the looker.
And those similarities to the C3 Corvette aren't a coincidence either. The GT's designer, Clare MacKichan, previously penned cars for GM in the '50s, which explains the visual family tree.
Its Kadett origins means the Opel GT sports a transverse leaf front suspension, front disc and rear drum brakes, a coil-sprung rear axle, and a four-speed manual transmission. This model, being an American version, sports the firm's larger 1.9-liter four-cylinder, rated at 102 horsepower.
Even by Opel's own advertisements, it was claimed that the GT wouldn't accelerate like a race car – though the material alleged it would stop like one. Clever ad men, clever.
The selling point on this car is absolutely its remarkable, well-preserved condition, especially given its location in the oh-so-wintery Northeast (Bethlehem, Pennsylvania). Included in the sale are many of the car's original documents, including the owner's manual and original options list, as well as an extensive service history.
Mileage is unlisted, but going off the dozens of photos on the site, everything looks well looked-after and fairly original. Though, we hope the original Opel ski rack – referenced in the owner's docs – is included as part of the deal. You can check out the listing
here
for only $19,500.
Registered
Join Date: May 2005
Posts: 53,770
Thanks: 0
Thanked 0 Times in 0 Posts
---
Registered
Join Date: May 2005
Posts: 53,770
Thanks: 0
Thanked 0 Times in 0 Posts
---
Another 'Vette looking Opel GT
Look at the rear quarter panel.........what non-vette car looks like that?

The Opel GT is a two-seat sports car first presented as a styling exercise in 1965 at the Paris and Frankfurt motor shows, and introduced as a production model late in 1968 by Opel, a German subsidiary of General Motors. It relied partly on components from the contemporary Opel Kadett B and had a body made by French contractor Brissonneau & Lotz.
Its styling has been likened to the 1968 Chevrolet Corvette which went on sale in September 1967. The Opel GT was equipped with a base 1.1 L OHV straight-4 engine, which produced 67 hp (SAE) at 6000 rpm. However, most buyers chose an optional 1.9 L Cam-In-Head (CIH) engine, which produced 102 hp (SAE) at 5200 to 5400 rpm. Some of the early 1968 models also came with a slightly higher compression "H" code cylinder head. In 1971, due to emissions regulations, Opel reduced the compression ratio of the U.S.1.9 L engine and output fell to 83 hp (SAE). There was also a GT/J model, which was a less expensive version of the 1900GT sold only in Europe. Standard transmission was a manual 4-speed. A three-speed automatic was available with the 1.9 L engine. The model run of the Opel GT was from 1968 to 1973.
The Opel GT used a steel unibody and a conventional front-engined, rear-wheel drive layout. The Cam-In-Head (CIH) engine was mounted far back in the chassis to improve weight distribution. Front suspension consisted of upper A-arms and a lower transverse leaf spring. A live axle and coil springs were used in the rear. The power-assisted braking system used discs in the front, drums in the rear. Steering was unassisted.
One unusual feature of the Opel GT was the operation of the pop-up headlights. They were manually operated, by way of a large lever along the center console next to the shifter. Unlike most pop-up headlights, they both rotated in the same direction (counterclockwise from inside the car) about a longitudinal axis. One standard joke about GT owners was that you can easily spot them due to the heavy muscles on their right arm built up by using the lever to pop up the headlights.
Designed by GM Stylist Clare MacKichan, the Opel GT was a fastback, that had neither an externally accessible trunk nor a conventional hatchback. There was a parcel shelf behind the seats that could only be accessed through the main doors. Behind the parcel shelf was a fold-up panel that concealed a spare tire and jack.
The interior of the Opel GT was surprisingly large for a car its size, owing to its original design process (exterior metal was sculpted around an interior model). Headroom and legroom were sufficient for those over 6 feet (1.83 m) tall.
During 1968 to 1973, a total of 103,463 cars were sold. The most collectable GTs are probably the first few hundred cars hand-assembled in 1968 and the 1968–1969 models with the 1.1 L engine, which totaled out at 3,573 cars. Of the later cars 10,760 were the cheaper model (GT/J), which lacked nearly all chrome parts and less standard features. In some markets, items like a limited slip differential, front and rear anti-sway bars, heated rear window and engine bay light were standard, although most cars were shipped without them.
In North America, the GT was sold at Buick dealerships. Reasons for ending production were the need to redesign the car to remain competitive with up-and-coming sports models, such as the Datsun 240Z, as well as the termination of Brissonneau and Lotz' bodybuilding contract.
Source: Wikipedia, 2011
Registered
Join Date: May 2005
Posts: 53,770
Thanks: 0
Thanked 0 Times in 0 Posts
---
Registered
Join Date: May 2005
Posts: 53,770
Thanks: 0
Thanked 0 Times in 0 Posts
---
Registered
Join Date: May 2005
Posts: 53,770
Thanks: 0
Thanked 0 Times in 0 Posts
---
[h=1]Why the Opel GT Deserves a Second Chance[/h]
Source: General Motors
In 1968, Chevy released the C3 Corvette, arguably the last base-model 'Vette of the 20th century that could be counted among the world's best. With its Coke-bottle shape, low, menacing front-end, and the power and handling to back it up, it was enough to make even non-Corvette guys green with envy. But it started at $4,320, putting it well out of reach of most car buyers. If all you wanted was power, $3,245 could get you an AMC AMX, $3,101 would land a Pontiac GTO, $2,896 would by a 340-powered Plymouth Road Runner. But for those cash-strapped buyers who wanted a new Corvette more than anything else, for $3,300,
The GT was by no means a great sports car. Honestly, it wasn't even a very good sports car. But it was charismatic, beautiful, and had a tremendous amount of potential. It was a pure, unashamed copy of the Corvette in almost every way, but despite its diminutive size, lackluster handling, and underwhelming performance, it did exactly what it was supposed to do: sell in strong numbers and make Opel appeal to a younger demographic. Unfortunately, the good times didn't last long for the GT, and despite being a common sight in the '70s, it's all but forgotten today.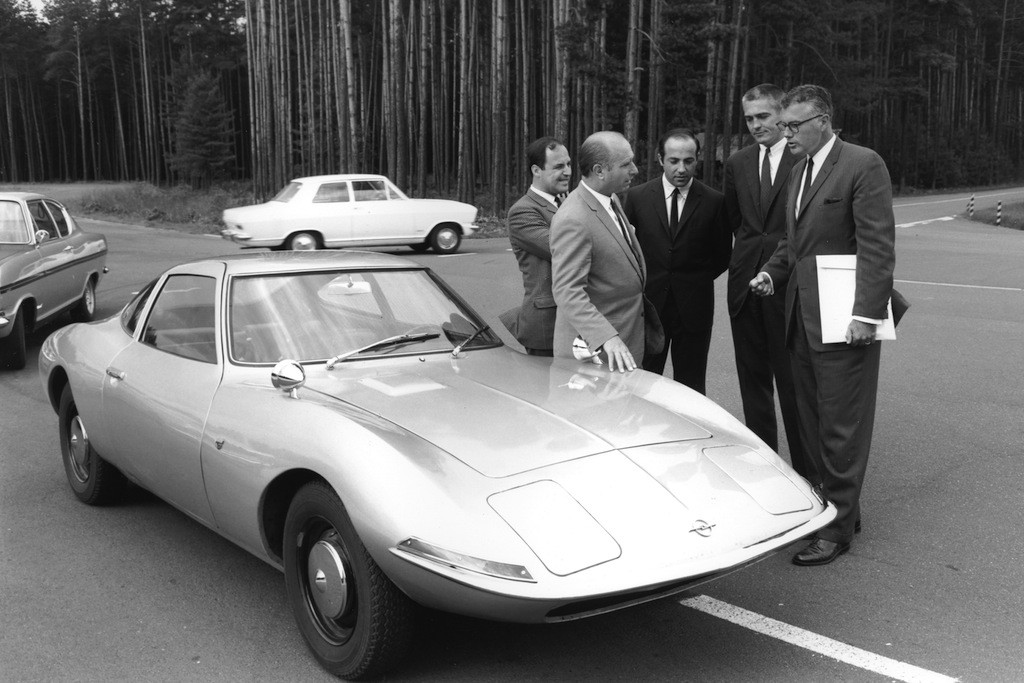 Source: General Motors
You may not notice them, but Opels are all over American roads nowadays – albeit badged as Buicks and late-model Saturns. In the 1960s, however, GM sought to position its German brand as a low-cost import-fighter available in the U.S. through Buick dealerships. The Opel brand had never really done sporty before, but by the muscle car era, it was willing to give it a try.
At the beginning of the decade, Clare MacKichan had been reassigned from the Chevrolet division to Opel's Russelsheim studios. MacKichan had been instrumental in designing
the tri-five Chevys
, and it's likely that he saw the designs for the C3 and Mako Shark II concept before he left Detroit. In 1965, the brand surprised the press by debuting a compact grand tourer at the Frankfurt Motor Show. Called simply the GT, Opel was adamant that the car was a pure concept, with no production plans. But public response grew too loud to ignore, and within months, the car was fast-tracked for production.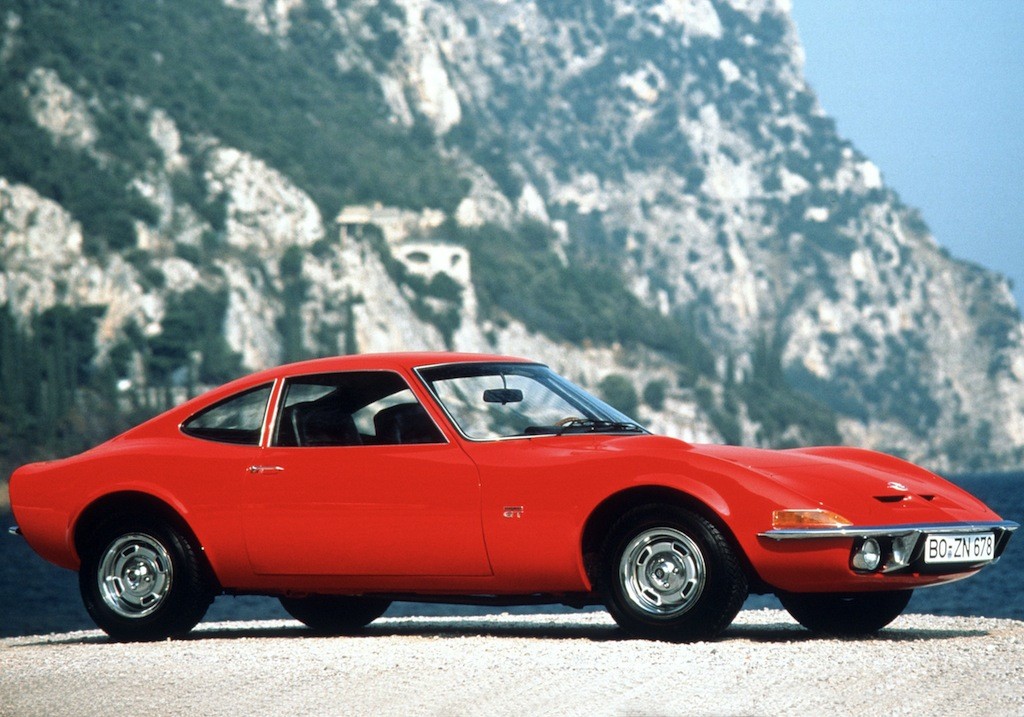 Source: General Motors
In an era when Ford's 289 cubic inch V8 wound up under the hood of the compact Sunbeam Tiger and affordable British roadsters were carving corners with the best of them, the GT was somewhat of an impostor. Under MacKichan's gorgeous bodywork was an crude platform shared with the Kadett B economy car. The engine was front-mid mounted to improve weight distribution, and front power disc brakes helped slow things down, but neither the 67 horsepower 1.1 liter and available 1.9 liter 102 horsepower engine delivered much in the performance department, especially when mated to the three-speed automatic slushbox. Contemporary road tests
clocked the GT's zero to 60 sprint
at 10.2 seconds, and complained about its penchant for understeer.
But then there was that styling, which forgave a multitude of sins. Its mini-Corvette lines were incredibly flattering to the small car, and the low nose and kammback styling gave it an air of sporting pretension regardless of what was under hood. The Corvette similarities carried over on the inside, though some road testers actually reported that they liked the GT's ergonomics and fit-and-finish better. The car's party trick, however, was its pop-up headlight system. Unlike being operated by vacuum (a la Corvette) or by electric motor (like the Mercury Cougar), the GT's headlights were operated by a lever below the dashboard that mechanically flipped the headlights up. It was more cumbersome than an automatic function, but to this day, it's one of the GT's most memorable features.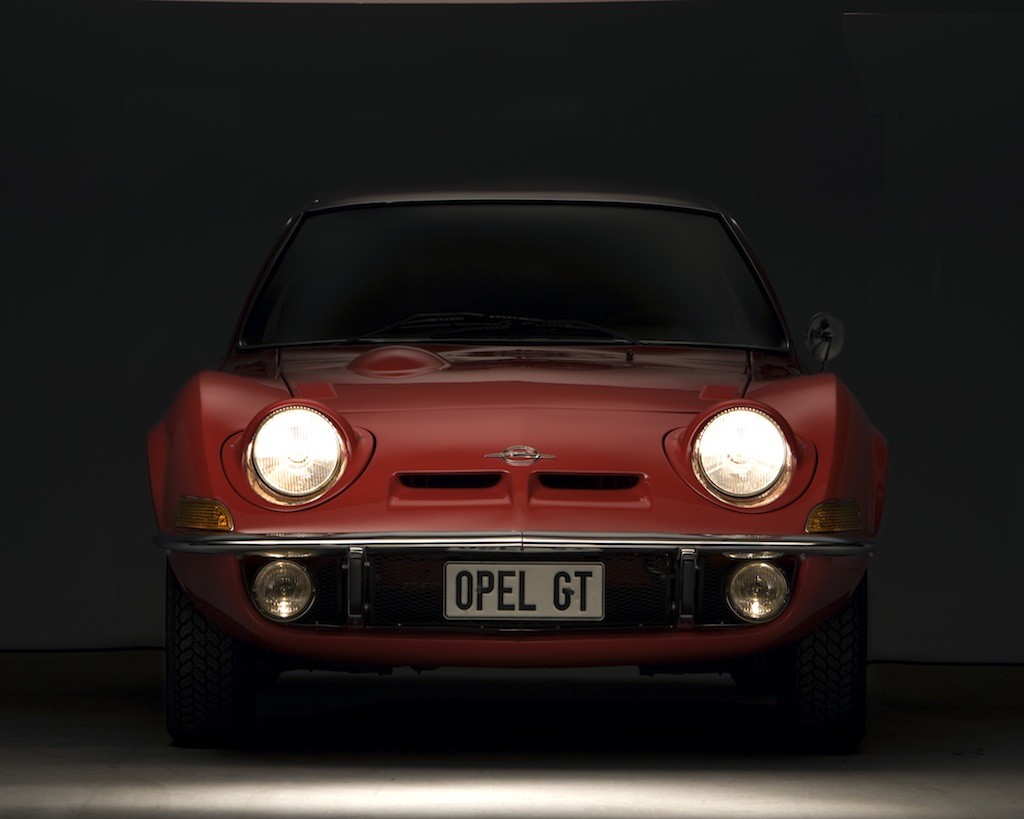 Source: General Motors
But the world was changing fast, the the Opel GT simply couldn't keep up. In 1968, a memorable
hit piece in Car and Driver
was so damaging to the Opel brand that GM responded by pulling all of its ads from the magazine. And strict new safety and emissions regulations meant that the GT's performance would need to be watered down even more. After 1971, the 1.9 liter's power fell from 102 horsepower to 83. Its swan song came in 1973; we shudder to think of what it would've looked like if it were subjected to the federally-mandated post-1974 five-mile-per-hour bumpers.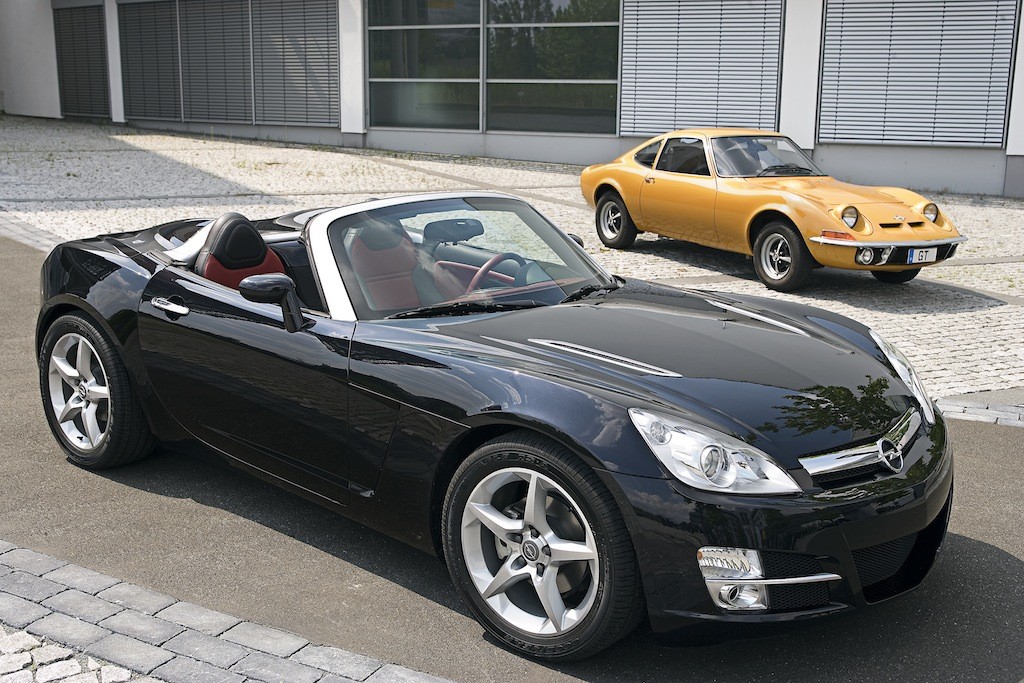 Source: General Motors
There were, of course, other factors that were working against the GT too. In 1970, Datsun released the 240Z, single-handedly legitimizing the Japanese sports car and putting affordable European competitors on notice. For $225 more than the Opel, buyers could get a 150 horsepower sports car with fully-independent suspension, disc brakes, twin side-draft carburetors, and an overhead cam straight-six. If the Datsun offered practical performance for the future, the GT was stubbornly rooted in the past. To GM, it would've cost too much to redesign the car to meet new regulations and take on this new generation of performance car at the same time. By the end of the decade, the Opel badge was relegated to selling brand-engineered Isuzus in America dealerships, and the brand left our shores altogether in 1981.
In Europe, the GT nameplate was revived as a rebadged version of the Saturn Sky/Pontiac Solstice and sold between 2007 to 2010, though just over 7,500 cars were sold before production ended. In recent years, Opel has struggled to stay profitable in Europe, where the economy has taken much longer to recover from the global financial crisis. The brand has
lost $18 billion since 1999
, and has long suffered from quality control issues and a reputation for building boring cars.
But that may be changing. The subcompact Opel Adam has been a much-needed hit, and an advertising blitz similar to Cadillac's in the U.S. has helped make 2015 the
brand's best sales year
since 2011. And last week, the brand released a pair of teaser videos showing CEO Karl-Thomas Neumann walking up to an out of focus concept and declaring "Opel has reinvented itself." In a surprising twist, the car is wearing a GT badge. Very little is known about the new concept except that it'll be unveiled at the Geneva Auto Show in March. Car and Driver says the new car is
likely to be based on the new Opel Astra platform
, though it points it could also share its bones with the Alpha platform, which underpins the Cadillac ATS, Chevy Camaro, and recent Buick Avista concept. At this point, there's no word on whether or not the car will see production, or if it would ever make it to America. But with Opel and Buick being closer than ever before (the Regal, Cascada, and Encore all began life as Opels), we certainly wouldn't rule it out. It would be great to see the beautiful little sports car live up to all the potential it had the first time around.
Thread
Thread Starter
Forum
Replies
Last Post