Titan Motorsports BBQ/Meet and Greet at Central Florida Road Course - February 8th
TR Admin Alumni
Join Date: Feb 2004
Posts: 4,238
Likes: 0
Liked 0 Times in 0 Posts
Titan Motorsports BBQ/Meet and Greet at Central Florida Road Course - February 8th
---
Titan Motorsports BBQ/Meet and Greet at Central Florida Road Course - February 8th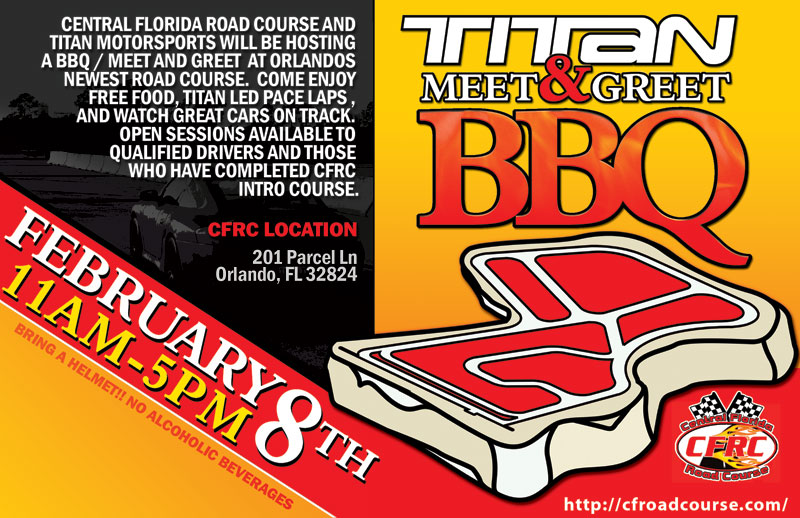 On February 8th we will be hosting a BBQ Meet and Greet at Orlandos newest race track, the Central Florida Road Course. The event will be hosted from 11-5 at the road course which is located. Food and beverage will be provided. No alcoholic beverages are allowed on site.
- Parade Laps paced by a Titan car
- Open Session for qualified drivers and those who have completed driver training.
For More Information on the Course / Training Courses and for additional directions and photos visit
http://cfroadcourse.com
If you plan on attending or have any questions about the Titan BBQ event please email
<a href="mailto:

[email protected]

">

[email protected]

torsports.com</a>
Dont forget to Bring a Helmet!!!
__________________
---
Ant one else going? Kris and I will be heading out around11:30. Guessing it will be a little over a hour to get there.

So if you see a white classic Mini with checkers come over and say Hi.

B
__________________
---
Thought about it but decided to be lazy.
__________________
if you can only race me in a straight line then whats the point
...91 SMF SCCA
TRSig
by
chi town brat
, on Flickr
TR "Old Skool EF" Member #017
chi town brat
TR
"eg6" crew #6
I see people out there spending money on the car to improve it … If you spend half that effort just working on your driving skills, making you and the car work together as a team, then you'll go faster – period. To make the car go a second faster on the track takes a lot more energy and money than making yourself drive it one second faster.
– the late Tom Thrash SCCA Solo E Production
---
It was a nice event. We got to go out and do some parade laps. We were behind a pace car but at a good pace.
Nice facility. I could see a wicked Auto x set up using the track and the inner paved area..

The course itself is going to be to small for a Lemons event. But Time events or an all out race with Miatas or Minis would work.

Driving classes would also work for some one that has only done Auto X events. But if you have been doing Moroso or Sebring this is quite a bit smaller. My concern was where to have a safe passing area.. There really is only one or 2 good straights to have as a safe passing area.
If you were local, I could easily see the membership thing paying off. Getting a good deal of test and tune in on your car. But at over an hour drive from Tampa, its about the same time on the road to get to Sebring.
So it would come down to a cost to driving experience decision.

The organizers were very freindly, I heard they are wanting to talk with clubs RE: getting some events planned out. Willing to work on a package deal. If our club were closer it would be something I would be looking into,

Just my 2 cents..

B
__________________
yeah, I drive a miata
Join Date: Mar 2006
Posts: 1,751
Likes: 0
Liked 0 Times in 0 Posts
---
the course seemed way more awesome in a big truck with 4-5 people in it... lol

the few cars I rode in didn't seem nearly as fun though. I hope someone got pictures/video of the truck, that was pretty awesome
Registered
Join Date: May 2005
Posts: 60,134
Likes: 0
Liked 0 Times in 0 Posts
---