Sports Car Club of America
Registered
Join Date: May 2005
Posts: 52,310
Thanks: 0
Thanked 0 Times in 0 Posts
Official Event Monday Track Day August 6th
---
Official Event Monday Track Day August 6th
The Firm had a once per month track day when they started in 2015.... but now.....
Weekly News and Updates
• 352.437.2999
Monday Track Day August 6th
Coming up August 6th we will be having a Monday Open Track Day.
For those of you who can't take advantage of our normal Friday events, or just don't want to go to work, here's your chance for a Monday Track Day! Weekday's are your chance for 5-6 hours of track time - bring a friend!
Monday Open Track!
Registered
Join Date: May 2005
Posts: 52,310
Thanks: 0
Thanked 0 Times in 0 Posts
Entry Cap raised to 1,400 for Tire Rack Solo Nationals
---
Entry Cap raised to 1,400 for Tire Rack Solo Nationals
sharetweetemail
By:
SCCA
12 hours ago Many Sports Car Club of America members and autocross enthusiasts found themselves out of luck after online registration for the 2018
Tire Rack SCCA Solo Nationals
hit its participant cap of 1,350 entrants within a record-breaking 100 hours. But after much analysis and discussion, the SCCA has opted to raise the cap to 1,400 drivers – not including Junior Kart class entries.A portion of the current Solo Nationals waitlist should receive notification by Friday, July 20 that they are officially registered for the event taking place Sept. 3-7 in Lincoln, Nebraska. Howard Duncan, SCCA's Rally/Solo Senior Director, said as entry cancellations come in over the next several weeks, those remaining on the waitlist will receive open slots based upon their original registration date and time. Interested parties will be able to monitor waitlist status at the Solo Nationals
event page
."The SCCA Solo Department and members of the Solo Events Board meticulously examined operational details and logistics required to execute a Solo Nationals with 1,400 participants," Duncan said. "Our primary goal was being sure we wouldn't compromise the event's quality and participant experience by raising the cap. After careful analysis, we are confident our primary goals can be achieved and more people can come have fun with SCCA at Tire Rack Solo Nationals.""I'm convinced our Solo Nationals team can manage the increased entry, but it will still take everyone's help to make sure things run smoothly," Duncan added. "Drivers will need to be on grid and get to the start line on time. Participants must also arrive promptly for work assignments. We'll need to keep things moving, but the Solo community is known for being very helpful. Everyone does their part and this Club will pull off the biggest and best Tire Rack Solo Nationals in history."With the cap raised, the cost to register up to Aug. 13 remains $190 per entry, and just $85 for Junior Kart classes. After the August deadline, the registration cost increases to $300. August 22 is the last day to register online or receive a refund on a registration made before August 13.While Paddock Group Registration has already closed, participants can join existing paddock groups during registration until July 23. Registration for individual paddock spaces opens August 1.Mike Cobb, SCCA's President/CEO who hopes to join in this year's Solo Nationals, said, "we set a participation record in 2017 at the Tire Rack Solo Nationals with 1,317 entries. The fact that we need to increase the cap for the 2018 event confirms the growth and popularity of SCCA Solo throughout the country. This will be one of the largest competitive motorsport events in the world based on the actual number of participants, and I think it's something every member in the SCCA can be proud."Along with registering to participate in the event, it is also time to sign up online for
Solo Nationals contingency programs
. Many opportunities require pre-registration with SCCA and/or with sponsoring companies. It is the responsibility of each competitor to make sure they are in compliance with each program for which they would like to enroll — including registration, product use, and decal placement. Once competitors have reviewed requirements for specific contingencies, registration for the various programs can be found at a special MotorSportReg.com
webpage
. Competitors may add or subtract contingency programs up to Sept. 3 at 11:59 p.m. Central Time. Late changes can be made upon arrival at the Solo Nationals venue.To learn more about Tire Rack SCCA Solo Nationals, visit the
2018 Tire Rack Solo Nationals Championship
page at SCCA.com. To learn more about Solo Nationals contingencies, visit
https://www.scca.com/pages/solo-contingency
.
Registered
Join Date: May 2005
Posts: 52,310
Thanks: 0
Thanked 0 Times in 0 Posts
---
SCCA Runoffs: Contingencies, paddock space and annual banquet
Images by Mazda Motorsports
35 sharessharetweetemail
By:
MazdaMotorsports.com
August 14, 2018 4:35 AM The SCCA National Championship Runoffs will be held at Sonoma Raceway for the first time, bringing the event back to the west coast for the first time since 2014. The 55th running of the event will be held October 16-21, 2018, but the action and excitement begins Saturday, October 13 with the first test day.Mazda Motorsports will support its racers in a variety of ways, from paid paddock space to on-site support to professional coaching, parts support, a banquet and, of course, contingency and tow money. The only thing missing this year – the large tent. For a variety of reasons, SCCA and the manufacturers have moved away from these tents at Sonoma Raceway.Mazda Motorsports' Scott Kaluza, Daniel Sumner, Josh Smith and David Cook will be on hand during the event. Sumner and Smith will start things off on Saturday morning during the test day, taking down pro coaching sign-ups, handing out shirts, hats and banquet tickets, and assisting with parts needs. Cook and Kaluza will be joining the week of the qualifying and racing, along with Mazda Motorsports factory drivers."We are excited to have Mazda Motorsports' factory drivers join us again at the Runoffs," says Cook. "They will provide 1:1 data and video analyses coaching each of those days, in 25-minute increments." The coaching is complimentary, and has been a staple of the Mazda Motorsports' offering at the Runoffs since 2014.Mazda Motorsports traditionally holds a banquet for its competitors in the middle of the week with door prizes and special guest speakers. This year's will be Wednesday night, October 17. Details are being finalized and will be communicated closer to the time of the event.Once again, Mazda Motorsports support the Mazda racers with significant contingency awards, including a tow fund, to help alleviate some of the investment it takes get to the Runoffs.Mazda offers contingency awards to all classes Mazda's compete in, paying the production-based racers who win $5,000; second place finishers earns $2,500, while third receives $1,500, fourth takes home $1,250, and fifth $1,000. Formula Mazda, Formula Enterprise (FE2 only), Formula Atlantic, and Sports Racers earn $4,000 for the win, $2,000 for second, $1,250 for third, and $1,000 for fourth. There is a $1,000 bonus for winning the Super Sweep as well – that's winning a Conference championship, the Super Tour championship and the Runoffs.In addition, those who finish in the top three in their Divisional points championship, U.S. Majors Tour Conference or Super Tour points are eligible for tow fund money. Depending on the distance from Sonoma, that amount can be up to $800.For more information on Mazda's contingency awards for the Runoffs, click here and see page 8.
Parking information:
1. All of the space assigned to Mazda is located in the Turn 7 paddock.2. Mazda paddock requests:
(A) If you are a prep shop/multi-car team that requires a larger space but would like to park in the Mazda area, please complete the Team Paddock request form at
http://www.msreg.com/teampaddock
.
–If you are a prep shop/multi-car team but do not wish to paddock in the
Mazda area, you will still need to complete the Team Paddock request form
but choose one of the other options available.
(B) In your individual driver registration, please be sure to indicate your paddock intention.
–If you are a Mazda driver who is part of a prep shop/multi-car team, select
Prep Shop/Multi-car team and note the team name.
–If you are a Mazda driver AND not part of a multi-car team, select Mazda
Paddock, and complete the questions that follow.
–If you are a Mazda driver AND not part of a multi-car team AND do not wish
to paddock on the Mazda area, then choose one of the other available options.
(C) While space is limited, we will try to accommodate as many requests, as possible. We ask that drivers and teams consolidate into the smallest workable footprint, so that all drivers may be accommodated.
(D) We have included 70' spots so that RVs and toterhomes may remain connected.3. Turn 7 paddock details:
(A) Paved
(B) Relatively flat, slight slope toward track
(C) Distance from Main Paddock Grandstands via the ring road is 1
mile.
(D) There will be port-a-johns in the paddock area. There is a
permanent restroom building above the paddock area in the
Turn 7 viewing area.
(E) Lot 11, directly across the road from Turn 7 paddock available
for street car parking.
(F) Empty trailer parking nearby in Lot 12 area.
(G) There is a shuttle stop next to the Turn 7 paddock.
(H) Turn 7 grandstands adjacent to the paddock.4. Other paddock reservation details:
(A) If you prefer to be in another paddock, outside of the Mazda
Turn 7 paddock (such as Main Paved, Upper Paved, South/Lot
2 Gravel), you'll need to either choose one of the other paddock
space options listed in driver registration.
(B) Paddock assignments for manufacturers, prep-shops and
multi-car teams will begin August 27th.
Runoffs
,
Mazda Motorsports
Registered
Join Date: May 2005
Posts: 52,310
Thanks: 0
Thanked 0 Times in 0 Posts
SCCA Solo Nationals breaks participant record
---
SCCA Solo Nationals breaks participant record
Image by Perry Bennett, Autoxpix
sharetweetemail
By:
SCCA
| 3 hours ago This year's 46th running of the Tire Rack SCCA Solo Nationals has reset the event record for number of participants to cross the start line on one of two courses constructed for the Sept. 4-7 event at Lincoln AirPark in Nebraska. The Sports Car Club of America record book will show that 1,375 drivers participated in the 2018 Solo Nationals, beating the previous record set in 2017 by 58 competitors. And of those 1,375 drivers, nearly 240 were first-time competitors at the year-end competition.
After a week of rain and shine, including one day that delivered a record-breaking 2.15 inches of rain to Lincoln, a total of 76 winners were crowned across as many car classes. There were 43 class winners named after the first half of the four-day event, and an additional 33 identified by end of competition Friday. Howard Duncan, SCCA Rally/Solo senior director, said that list of winners includes 25 first-time champions.
"I've been involved with the Solo Nationals for 34 years, and each one is slightly unique. As an example, this year we raised the entry cap to 1,400 drivers and rapidly reached that cap," Duncan said. "Of course, there is always intense competition and some tremendous driving that takes place at this annual event. But this year I felt an even stronger sense of community and camaraderie amongst our participants. People were jumping in to fix the ailing cars of competitors, and some even offered their vehicles to competitors who were having trouble with their cars. It's always an amazing scene at Solo Nationals."
Participation at Solo Nationals has experienced growth for several years. Back in 2015, the event reached 1,223 entries. The following year, there were 1,302 participants from around the United States, Canada and even Brazil. In 2017, Solo Nationals set a new participation record with 1,317 entrants. Mike Cobb, SCCA's president and CEO, said the new record of 1,375 set this year further cements the Tire Rack Solo Nationals as one of the largest motorsport participant events in the world.
"This is certainly a crowning achievement in the history of the Sports Car Club of America," Cobb said. "But what's really satisfying is how everyone pulls together to make the week happen. At Solo events, drivers are also required to chip in and 'work' for a period of time. That could include setting cones up on course, helping in grid, or working in timing and scoring. So, when the SCCA executes the largest Solo Nationals in history, it is truly to the credit of the Club as a whole because all the competitors and volunteers have played a role in the success. It's just so great to see so many people come together in one place to all have fun with cars."
SCCA Solo is a competitive motorsport activity where orange traffic cones are used to create a twisty, miniature course in large parking lots or unused portions of airports. One at a time, competitors traverse the temporary circuit to see who can be quickest without hitting any cones or going off course. Drivers range from those using daily commuter cars to professional racers wheeling purpose-built vehicles. There is even a special class for those competing in race karts.
Registered
Join Date: May 2005
Posts: 52,310
Thanks: 0
Thanked 0 Times in 0 Posts
GT3 Challenge presented by MPI: The SCCA ARRC
---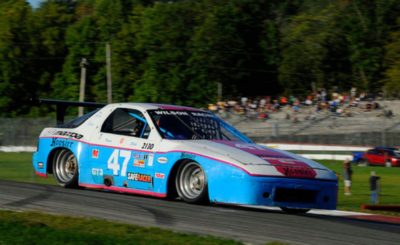 GT3 Challenge presented by MPI: The SCCA ARRC
The inaugural GT3 Challenge presented by MPI kicks off at Road Atlanta during the SCCA's American Road Race of Champions (ARRC) November 1-4. The GT3 Challenge will be part of an ARRC race on Saturday, and the second GT3 Challenge race will be a standalone, featured race on Sunday.
"MPI, Hoosier Racing Tire, and Mazda have come together to provide some special prizes to help maximize participation at these events," says David Cook, business development manager for Mazda Motorsports. "The participation is what excites us. It's all about the competition of many high horsepower GT3 machines tackling Road Atlanta. The bonus for the competitors and those involved is all the partners that are coming together to raise the stakes."
The prizes:
GT3 Challenge presenting partner MPI (Max Papis Innovations Inc.) will award custom stitched steering wheels (special for these GT3 Challenge events) to each of the podium finishers. Details are being finalized.
During the Saturday Mazda BBQ at Road Atlanta, Hoosier Racing Tire will raffle one set of Hoosier racing tires for GT3 competition to one GT3 Challenge competitor. All GT3 manufacturer drivers are eligible for the raffle, and invited to the lunch to be held at Mazda Motorsports' trackside support hospitality paddock space. All Mazda drivers are also invited to the lunch on Saturday, November 3.
While SCCA's entries fees for each of the two races is TBA, Mazda is offering a subsidy of $175 per competitor, regardless of manufacturer (includes non-Mazda's), for those who register and pay for entry into both GT3 races. A coupon code to be entered on MotorsportReg.com will be provided in advance of registering.
Mazda offers contingency awards for the top three finishers in the SCCA ARRC race. For both GT3 Challenge races, however, Mazda is sweetening the pot. For each of these two races, Mazda drivers who place in the top 20 are eligible for the following contingency awards:

1st place overall: $400
2nd place overall: $300
3rd place overall: $250
4th place overall: $225
5th place overall: $200
6th -15th place overall: $175 each
16th – 20th place overall: $150 each

More prizing and giveaways will be announced.
"Mazda is known for going above and beyond for our racers," continued Cook. "I'm not sure many manufacturers have ever subsidized entries for their competition, but that's one part of this strategy to support our racers and kick off these Challenge events. It's all about ensuring our racers get to compete in full fields; if we need to help other brands cars, we will. Hoosier and MPI get this, and that's why we are working so well together to make this happen."
The SCCA ARRC
As the 2018 racing season draws to an end, the 25th running of the ARRC, November 1 – 4, is positioning itself to provide championship caliber competition with the fun that Club Racing is all about.
The weekend events will start with a Road Atlanta Test Day on Thursday. On Friday there will be two qualifying sessions for the ARRC Championship Race Groups and one qualifying session for the Atlantic Pro Cup Series. Friday's action will conclude with the first of two Atlantic Pro Cup Series races. On Saturday, ARRC Championship racing will combine both National and Club classes and will race for the ARRC medals.
Sunday will be packed full of Feature Races for classes including FF, Formula FST, GP4, Spec-MX5, and GT3. And the weekend will end with a combined Endurance Championship Racing Series and Atlantic Pro Cup Series race. For more information go to
www.atlantascca.org
Thread
Thread Starter
Forum
Replies
Last Post