Minimum Wage of $16 destroying another business: How democrats do it to you
Registered
Join Date: May 2005
Posts: 61,546
Likes: 0
Received 0 Likes on 0 Posts
Minimum Wage of $16 destroying another business: How democrats do it to you
---
Seattle Couple Fears $16 Minimum Wage Could Doom Subway Franchise
Ginny Montalbano
/
@GinnyMontalbano
/ January 18, 2019 /
107 Comments
---------------------------
In Seattle, you will pay $9 for a big mac burger at McDonalds. How much can you raise price on a Subway?
Forced Minimum wage of $16 "given" to you by democrats raises prices to consumers, and eventually kills your business.
-----------------
Are democrats also going to make it illegal to go out of business when you have no customers
who can afford your prices?
--------------------
Are democrats going to guarantee that you won't be fired when there is no money
to pay workers?
------------------------
First, they were forced to cut expenses, which meant letting go four of seven employees at the Seattle shop. They had to raise prices, and sales fell. They cut store hours as a result of having fewer employees.
-----------------------
The Subway restaurant company announced three years ago that it hoped to open 500 shops in the U.K. like this one in London, creating 5,000 jobs by 2020. Today, a Seattle couple may have to give up their franchise by that year because they can't afford to pay that city's $16 minimum wage. (Photo: Carl Court/Getty Images)
When Heidi Mann and her husband Karam took a leap of faith 15 years ago and purchased a Subway franchise in Seattle, they had no idea that one day their dreams could be shattered by the city's required increases in the minimum wage.
Nine years later, the Manns bought a second Subway sandwich shop in Kirkland, Washington, a suburb east of Seattle.
But now their businesses are struggling as a direct result of the steady rise of the minimum wage in Seattle, now up to $16 an hour. The couple predict they will be forced to close their Seattle location by March 2020.
The liberal Left continue to push their radical agenda against American values. The good news is there is a solution.
Find out more >>
"Labor costs are too high, our profit margin is too tight, and there is no relief for small business owners like us," Heidi Mann said.Mann, 34, spoke Wednesday at a private event held by The Heritage Foundation and the Employment Policies Institute to examine firsthand effects that she and her husband, 38, experienced from government-mandated hikes in the minimum wage.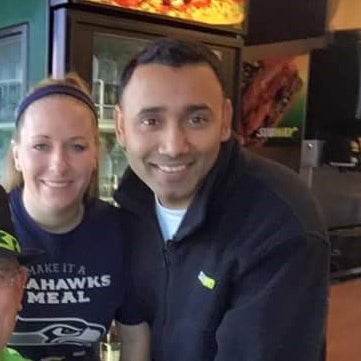 Heidi and Karam Mann. (Photo courtesy of Heidi Mann)The Manns' Subway shop in Seattle is situated right on the edge of the city in a middle-class neighborhood, but is stuck in a high-wage market that includes major companies such as Amazon.
The Seattle City Council
passed legislation
mandating that the minimum wage rise to $11 an hour in 2015, then $13 in 2016. For companies such as Subway with 500 employees or more, the minimum wage is now $16.
It has been a slow, painful process for Heidi and Karam Mann, their business plans, and their employees. They also have three children, ages 4, 6, and 15. During the Heritage event, Heidi Mann said: We started this business believing in the essential truth of the American dream. But our dreams of being our own boss, earning a living wage for our family, and helping others through meaningful employment is slowly becoming a pipe dream and less and less reality as each piece of legislation is passed. As the minimum wage began to climb, the Manns faced tough decisions.
First, they were forced to cut expenses, which meant letting go four of seven employees at the Seattle shop. They had to raise prices, and sales fell. They cut store hours as a result of having fewer employees.
The Manns' two remaining employees are ages 35 and 60, Heidi Mann said, because the couple has been forced to hire more experienced workers. They can't afford to hire and train entry-level high school and college students, something she lamented.
When she was 16, she worked at a Taco Bell in Federal Way, Washington, for a much lower minimum wage.
She worked her way up to management, learning important skills along the way such as customer service, handling money, and conflict resolution."Small business owners are what make America strong," Mann said. "They are the heart of the economy and are a front line of defense, taking on the brunt of raising a solid workforce as employees navigate into careers and higher-paying positions."
Registered
Join Date: May 2005
Posts: 61,546
Likes: 0
Received 0 Likes on 0 Posts
---
Registered
Join Date: May 2005
Posts: 61,546
Likes: 0
Received 0 Likes on 0 Posts
---
John Morgan and Morgan (Florida democrat billionaire attorney)
is trying to raise Florida wages to $15/hour in preparation for running for governor.
https://www.tamparacing.com/forums/p...-morgan-m.html
--------------------
But if liberals will fall for socialist democrat bernie sanders promising that the govt will pay you $15/hr
whether you work or not, if Morgan can force it through due to his democrat buddies in Tallahassee,
All the Florida prosperity created by Republican Rick Scott will go away.
-----------------------
---
Last edited by senor honda; 01-28-2019 at

07:18 AM

.
Registered
Join Date: May 2005
Posts: 61,546
Likes: 0
Received 0 Likes on 0 Posts
---
Minimum Wage of $16 destroying another business: How democrats do it to you
and take the money from taxpayers.........and pay for working or not working.
Free money basic income: where companies are forced to pay you $15/hour until going out of business
OR.......The govt takes taxpayer money and "redistributes" tax payer money to someone else who without a doubt will vote for them.
What Countries Have Tried Universal Basic Income? | NowThis World
3.5K 443 Share
Save
Published on Jul 1, 2018
What happens when a government gives their citizens free money?
---
Last edited by senor honda; 02-10-2019 at

07:30 AM

.
Thread
Thread Starter
Forum
Replies
Last Post