If you get this email, it is a scam
Registered
Join Date: May 2005
Posts: 61,540
Likes: 0
Received 0 Likes on 0 Posts
You want all my personal info to make and sell terrorist passports, or ID's to illeg
---
alice.it? What country is that? what is i"t"?
So you want all my email contacts so you can scam them also?
You want all my personal info to make and sell terrorist passports, or ID's to illegals?
Why do you have two DIFFERENT email addresses?
----------------------------------
Dec 4 at 3:30 PM
Congratulation on winning US$850,000.00 USD in our 2018 PCH.
Kindly send your contacts to

[email protected]
*Given Names:
*Mailing Address:
*Telephone:
*Gender:
*Age:
Kristin Cooke
Official Notification
----------------------------------------------
© Copyright 2018 Publishers Clearing House. All Rights Reserved
Registered
Join Date: May 2005
Posts: 61,540
Likes: 0
Received 0 Likes on 0 Posts
---
Another one of those: "Gonna shut your email off if you don't click the virus link"
Scam!
--------------------
[email protected]
Dec 4 at 1:47 PM
Dear User,Your account needs to be Re-validated as soon as possible. You will not receive incoming e-mails and it will be shut down in the next 24hr if you don't Validate your account now. Re-Validate Now:

Please do not reply to this e-mail. Mail sent to this address cannot be answered.
Customer Service Email ID # 1009.
c 2018, Inc. All rights reserved.Yahoo
Registered
Join Date: May 2005
Posts: 61,540
Likes: 0
Received 0 Likes on 0 Posts
---
Dec 3 at 8:30 AM
Account Security Notice- Please Confirm Your Login Session

What is happening:
An invalid sign-in attempt has been made to your Online Access Account.Our early fraud department has placed a security restriction on some part of your account. This is part of our security measure to keep your account from any fraudulent activities. We sincerely apologize for any inconvenience this incident may have caused you

We recommend taking the following steps:-
To regain Full access, all you need to do is to confirm your login and
validate your email on file, you will be asked to answer randomly generated
verification question

What you can do:-
To Complete This Verification, Login Here To Authenticate Your Account..


Please don't reply directly to this automatically-generated e-mail message.

Yours sincerely,
Fraud Department Center
Registered
Join Date: May 2005
Posts: 61,540
Likes: 0
Received 0 Likes on 0 Posts
---
Standard format for the Nigerian scam:
Has a yahoo email address that cannot be copied.
No Thanks! scammer!
--------------------------

Today at 6:26 AM
Hello,

I am Mrs.Joubert Georgette Rollande the wife of late Mr. Vidal Joubert. I am a Canadian American Citizen my husband worked with the Brunei Shell Petroleum Co Sdn Bhd (BSP) for twenty years and worked in Istanbul Turkey as a contractor before he died in the year 2010.

We were married for 73 years without a child. My Husband died after a brief illness that lasted for only two weeks. When my late husband was alive we deposited the sum of $9.5 Million with Economy security company in Turkey. The security just wrote me as the beneficiary to come forward for the fund or rather issue a letter of authorization to somebody to receive it on my behalf if I can not come over.

Presently, I'm in the hospital where I have been undergoing treatment for esophageal cancer. My doctor have told me that I have only a few months to live. It is my last wish to see this money distributed to charity organizations, Because my husband relatives and friends have plundered so much of my wealth since my illness, I cannot live with the agony of entrusting this huge responsibility to any of them.

Please, I'm seeking for any honest person who will get the Funds from the security company. And use this money to fund the poor, orphanages, widows and charity organizations. I took this decision because I don't have any child that will inherit this money and I don't want my husband's hard earned money to be misused by his greedy relatives.

I don't want a situation where this money will be used in an ungodly manner. I will wait to hear from you

Thanks

Yours Truly,
Mrs.Joubert Georgette Rollande
---
Last edited by senor honda; 12-06-2018 at

06:01 AM

.
Registered
Join Date: May 2005
Posts: 61,540
Likes: 0
Received 0 Likes on 0 Posts
---
So the US Department of justice wants to give me money?
Is that the same people who exonerated hillary clinton of all wrong doing, and found her not guilty of anything
several days before "investigating/asking her questions" about her selling 20% of the US uranium supply after hubby bill collected $1.5 million for making a speech
to Russians? ........and Robert Mueller personally carried the samples to Russia?....
https://www.tamparacing.com/forums/p...-ever-say.html
The same democrat Mueller who has been "investigating" (with democrat lawyers getting paid $750 PER HOUR)
Pres Trump for over 2 years without finding any evidence whatsoever of "Russian hacking/collusion, etc." with US elections in 2016??
https://www.tamparacing.com/forums/p...d-hillary.html
You scammers certainly don't come with good recommendations!
--------------------------------------------
Dec 6 at 5:35 AM
YOUR UNPAID FUNDS TO CLAIMI 'm contacting you Regarding your funds, I feel it's best and more convenientfor me to explain why I am contacting you. I'm Matthew G. Whitaker , AGUnited States Department of Justice, I work hand with the United States FraudUnit of the Criminal Investigation Division (CID). I'm specialize in BackgroundInvestigations on funds which include [COMPENSATION/ INHERITANCE FUNDS,Consignment Box,] and I notice that you have being receiving numerous emailsfrom people who claims to have funds coming to you but I advise that if you'restill in communication with any of them on issue of funds however, you'rehereby advise to stop every communication right now because those people hasbeing investigated and confirmed to be a Fraud.I wish to announce our successful investigation which was carried out few daysago; I guess it will interest you to know why this investigation was conducted.For your information, it was truly confirmed that you have 100% Legitimateunpaid transaction and you have every right to claim this funds as you're beenconfirmed to be the rightful owner of the said amount $6.5 Million UsdCOMPENSATION/INHERITANCE FUNDS.I'm informing you this today because I came to notice that you're notcommunicating with a legitimate person who is in charge of getting these fundsto you.This announcement has to be made open to you however because you mayhave being swindled by those unscrupulous people whom you have sent money inthe course of getting one fund or the other which is not real and for thisreason, I have decided to help you get your funds directly from theInternational Monetary Fund (IMF) here in United States because your Legitimatefunds remains unpaid.I want to know if you're interested in receiving your unpaid legitimate fundsvalue $6.5 Million usd however, I will only be of help if you agreed to followmy instructions.If you're really interested in receiving your unpaid $6.5Million USD, I advise that you get back to me immediately. All I need is yourcooperation and understanding.Please you can contact me back on my email by clicking your Reply.Best RegardsMatthew G. WhitakerAttorney GeneralUnited States Department of Justice
---
Last edited by senor honda; 12-07-2018 at

05:58 AM

.
Registered
Join Date: May 2005
Posts: 61,540
Likes: 0
Received 0 Likes on 0 Posts
---
[email protected]
Today at 10:15 AM
Dear Friend,How are you I hope you are very fine with your entire family? If so glory be to Almighty God.I'm happy to inform you about my success in getting those funds transferred under the cooperation of a new partner from GREECE, Presently i'm in GREECE for a better treatment and building of the orphanage home projects with the total money.Meanwhile, I didn't forget your past efforts and attempts to assist me in transferring those funds and use it for the building of the orphanage home and helping the less privilege.Please contact my nurse in Burkina Faso, her name is Mrs. Manal Yusuf , ask her to send you the compensation of $600,000.00USD which i have credited with the ECOBANK bank into an ATM card before i traveled for my treatment, you will indicate your contact as my else's business associate that tried to help me, but it could not work out for us, and I appreciated your good efforts at that time very much. so feel free and get in touched with the nurse Mrs. Manal Yusuf (email:
[email protected]
) and instruct her the address where to send the ATM card to you.Please i am in the hospital here, i would not have much time to check emails or respond to you, but in case you have any important message do send me as an update, i might instruct the doctor to check it and respond to you, meanwhile, once you received the ATM CARD, do not delay to inform me.Finally, remember that I had forwarded an instruction to the nurse on your behalf to deliver the ATM card to you, so feel free to get in touch with her by email she will send the ATM card to you without any delay.Thank you and God bless you.MRS SABAH IBRAHIM
Registered
Join Date: May 2005
Posts: 61,540
Likes: 0
Received 0 Likes on 0 Posts
---
Another scam from "alice.it"
what place is that?
two posts ago it was the department of justice offering me $6.5 million.....
and at post #351 "alice.it" was offering me $850,000 as pub clearing hoiuse.
I see a scam trend developing.
post #342 offered me $1.5 million..... with essentially the same format as this scam email.
------------------------
BTW: pub clearing house doesn't use email to notify you.....suckers!
There is no pch email lottery.....
This time they just want personal info to make terrorist passports and fake ID's
....or maybe just to get your mail in ballot address...
------------------------------
Dec 7 at 8:13 AM
Congratulations!!! Your email emerged winner of ($850,000.00) in the recent Publishers Clearing House globalsweepstakes email lottery. To take your winning cheque you are hereby required to fill in your details belowand email it to the contest department:
[email protected]
*Given Names:*Mailing Address:*Telephone:*Gender:*Age: Yours SincerelyDeborah HollandOfficial Winners Selection Notice
They sent me two emails.....did I win it twice?
PCH Lotto: Alert!!! Code..89773453
Yahoo/Spam


Dec 10 at 6:14 PM
Congratulations!!!

Your email emerged winner of ($850,000.00) in the recent Publishers Clearing House global
sweepstakes email lottery.

To take your winning cheque you are hereby required to fill in your details below
and email it to the contest department:
[email protected]
*Given Names:
*Mailing Address:
*Telephone:
*Gender:
*Age:

Yours Sincerely
Deborah Holland
Official Winners Selection Notice
I won 3 times! multiple scammers!
PCH Lotto: Alert!!! Code..89773453
Yahoo/Spam

Dec 11 at 7:16 AM
Congratulations!!!
Your email emerged winner of ($850,000.00) in the recent Publishers Clearing House global
sweepstakes email lottery.
To take your winning cheque you are hereby required to fill in your details below
and email it to the contest department:

[email protected]
*Given Names:
*Mailing Address:
*Telephone:
*Gender:
*Age:
Yours Sincerely
Deborah Holland
Official Winners Selection Notice
---
Last edited by senor honda; 12-11-2018 at

04:14 AM

.
Registered
Join Date: May 2005
Posts: 61,540
Likes: 0
Received 0 Likes on 0 Posts
---
So where is web.bi?
Where is matikawa.jp?
International Monetary Fund.....??
2.5 million?
United Nations Compensation Commission?
My name was among those Beneficiaries, yet you address me not by my name?
Foreign Payment Policy in the United Nations?
.....is that the same UN that is trying to go around the US Constitution of laws and disarm honest citizens in the US??
Standard Chartered Bank? Ohhh?
scammers!
------------------------------
IMF OFFICE <
[email protected]
>To:
[email protected]
Dec 8 at 5:04 PM
Dear Beneficiary,The general governing body of International Monetary Funds, IMF has authorized my Office to settle all the Foreign Outstanding Debts owed to the citizens of ASIA, AUSTRALIA, EUROPEAN, AFRICA & AMERICA, CANADA to support people in countries across the region affected by the Tsunami and Hurricane. Also include individuals whose Inheritance claims were denied many years ago. Hence, you received this letter for either of the above reasons. The IMF Foreign Policy and Currency Regulation offered loan of $23 billion based on that Agreement, $2 billion was mapped out for the Foreign Debts and your name was among those Beneficiaries to be paid through my Office the sum of Two Million, Five Hundred Thousand United States Dollars. ($2.5M)This has been approved and duly signed by the Finance Department of the United Nations Compensation Commission However, the Committee on Foreign Payment Policy in the United Nations has put in place measure to make sure that you receive this refund payment through Standard Chartered Bank Online Transfer. You are hereby directed to contact Standard Chartered Bank, Florida Miami USA and provide them with your Payment Reference Code (IMF/WH7514
and also your personal information such as Full Name/Address/City/State/Zip Code/Home and Mobile Telephone number.Contact Person: Mark O'NealStandard Chartered BankEmail:
[email protected]
Te: +1 (754) 202-4969Congratulations,Mr. Raymond BarnsIMF Debt Reconciliation's Committee
Registered
Join Date: May 2005
Posts: 61,540
Likes: 0
Received 0 Likes on 0 Posts
---
27.5 million and don't know my name?
Burkina Faso, Nigerian Scam
------------------------------------
Dearest,I know this mail will come to you as a surprise since we haven't known or come across each other before considering the fact that I sourced your email contact through the Internet in search of trusted person who can assist me.I am Miss Elodine Warlord Ibrahim Coulibaly 24 years old female from the Republic of Ivory Coast,West Africa ,am the Daughter of Late Chief Sgt.Warlord Ibrahim Coulibaly (a.k.a General IB ). My late father was a well known Ivory Coast militia leader . He died on Thursday 28 April 2011 following a fight with the Republican Forces of Ivory Coast(FRCI). I am constrained to contact you because of the maltreatment which I am receiving from my step mother.She planned to take away all my late father's treasury and properties from me since the unexpected death of my beloved Father. Meanwhile I wanted to travel to Europe, but she hide away my international passport and other valuable documents. Luckily she did not discover where I kept my father's File which contained important documents. Now I am presently staying in the Mission in Burkina Faso.I am seeking for long term relationship and investment assistance. My father of blessed memory deposited the sum of US$ 27.5 Million in one bank in Burkina Faso with my name as the next of kin. I had contacted the Bank to clear the deposit but the Branch Manager told me that being a refugee, my status according to the local law does not authorize me to carry out the operation. However, he advised me to provide a trustee who will stand on my behalf. I had wanted to inform my stepmother about this deposit but I am afraid that she will not offer me anything after the release of the money.Therefore, I decide to seek for your help in transferring the money into your bank account while I will relocate to your country and settle down with you. As you indicated your interest to help me I will give you the account number and the contact of the bank where my late beloved father deposited the money with my name as the next of kin. It is my intention to compensate you with 40% of the total money for your assistance and the balance shall be my investment in any profitable venture which you will recommend to me as have no any idea about foreign investment. Please all communications should be through this email address for confidential purposes.(
[email protected]
)Thanking you a lot in anticipation of your quick response. I will give you details in my next mail after receiving your acceptance mail to help me ,Yours sincerelyMiss Elodine Warlord Ibrahim Coulibaly(
[email protected]
)
Registered
Join Date: May 2005
Posts: 61,540
Likes: 0
Received 0 Likes on 0 Posts
---
This is not an email scam.
I don't know if the article is true or not
Just posting it as info after I got an email offer.......... wanting to sell me a card for my wallet to protect me from being scanned.
I wonder if all the cards in my wallet are NOT RFID to start with.
I have to insert mine the old fashion way.
----------------------------
Why you don't need an RFID-blocking wallet
RFID wallets, sleeves and clothing are security snake oil. You don't need RFID protection because there is no RFID crime.
Pixabay
(Creative Commons BY or BY-SA)
RFID blocking wallets, sleeves, and other products offer protection against RFID skimming. The problem isn't that these products don't work, it's that they're a solution to a problem that doesn't exist in the real world. RFID-related crime isn't only very unlikely, it's non-existent.It happens every Christmas. My friends, knowing my long-time career in computer security, canít wait to show me how smart they were for buying RFID wallets, purses, and even jeans and jackets. What they donít know, unless they read this, is that itís a complete waste of money.
What is RFID and how does it work?
Radio Frequency Identification (RFID) is a short-distance electro-magnetic method for transmitting small bits of data. It was initially used primarily for inventory tracking, but morphed into all sorts of uses, including authentication, passports, identification cards and credit cards. Itís the latter use that has driven a billion-dollar defense industry offering specially designed RFID-blocking accessories. You can even buy RFID-blocking
totes, fanny packs, and backpacks
.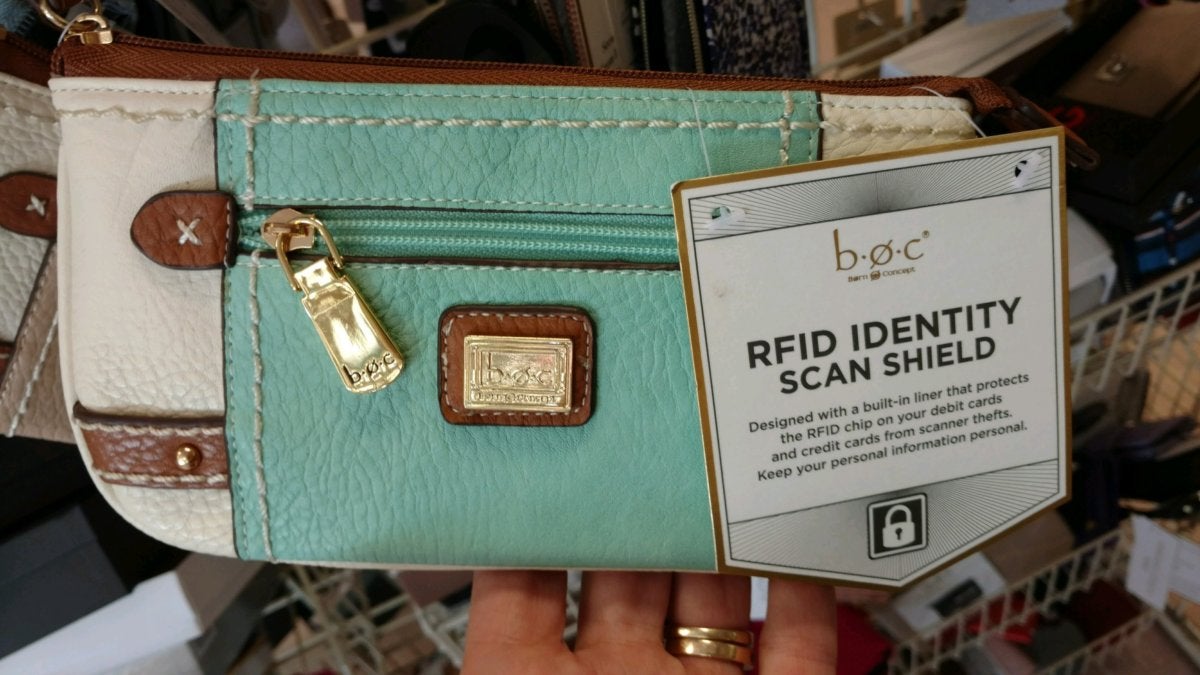 Tricia GrimesThe manufacturer's claims would be true, if not for the fact that there isn't any RFID crime to protect against.There are millions of RFID-enabled credit cards. No one knows for sure how many credit cards in the U.S. are RFID-enabled, but some estimates put them at
less than 5 percent
. RFID-enabled credit cards are more popular outside of the United States, with some countries having a majority of credit cards RFID-enabled.RFID-enabled credit cards can wirelessly transmit the necessary personal information from a card held a few inches away from a RFID reader to complete a financial transaction. There are other ways to pay for something wirelessly, for example, Apple Pay, which uses Near Field Communications (NFC). RFID is especially subject to hacking because the transmission protocol is not encrypted, and, at least, in the first generation of RFID-enabled credit cards, it would transmit the financial information in clear-text.
RFID security
Very soon after RFID-technologies were introduced, hackers were attacking them.
RFID skimming
, as itís known, involves using an RFID reader, usually fit with a strong directional antenna, that can energize and read other RFID-enabled transmitting devices. RFID skimmers were adept at not only intercepting and reading RFID data streams, but doing it from further and further distances. For a few years, RFID skimmers made reputations by showing how far away they could accomplish the attacks. The distances move up to dozens of yards away, with some skimming attacks being possible for over a hundred yards away, particularly for the newer ďactiveĒ RFID attacks that had their own energy sources.As RFID-enabled credit cards gained popularity, researchers began demonstrating how easy it was to intercept RFID-enabled credit cards. Today, you can find dozens of
demonstration videos
where a security researcher shows how easy it is to do. Itís true, you can hack some RFID-enabled credit cards.
[ [url=https://pluralsight.pxf.io/c/321564/424552/7490?u=https%3A%2F%2Fwww.pluralsight.com%2Fpaths%2 Fcertified-information-systems-security-professional-cisspr]Prepare to become a Certified Information Security Systems Professional with this comprehensive online course from PluralSight. Now offering a 10-day free trial! ]
These scare videos, live demonstrations and the numerous news articles that accompany them, usually play out some doomsday scenario where a hacker sits on a street corner incepting every RFID-credit card that walks by. The scariest scenarios include some foreign attacker remotely scanning your passport to identify you or steal your identity. Many passport services even offer a premium passport folder that blocks RFID waves.